MAKE AN APPOINTMENT
Get in touch with Anaissance, we are at your service and we will be happy to answer your questions or requests.
For an appointment or video call
« Anaïs was wonderful, very calm and easy to get on with, she adapted well to mine and my baby's needs putting us both at ease. The setting and layout of the room as well as the materials and handouts were excellent.
I loved learning how to observe
my baby, I found the chart on the periods of wakefulness, and
sleep states very valuable. The opportunity to exchange and
talk about issues around parenting and how massage could
help. I really loved the lullabies too!
I learnt to spot her tired signs which helped me when getting her to
nap in the day, I learnt that observing your baby and being in tune with them is key and that I have to relax too to be able to do this.
I learnt that the massage could be a nice ritual for her something that can be consistent wherever we are. It is a great tool to be close to her and see how she is feeling aswell as to relax her and me too.
It was really great as it was! Thank you Anais, I feel lucky to have found you and this course and will recommend it to others ».

Jennifer M.
"Anaïs is very nice and open. The place of practice was well equipped with cushions, blankets, toys and practicing dolls and I just felt being welcome from the first moment.
Also her answering reaction time, the organization and preparation was exceptional! Being German, I really appreciated this! 😉
I appreciated the very relaxed atmosphere and open talks about babies' general behaviors and how the massage can be a very nice tool of interacting with the baby in the daily life.
About my baby, I learnt a lot in terms of his body language and how to interpret his behavior.
Also in terms of his sleeping/transition/being awake phases.
In term of massage, I learnt that it can helps me to calm my son down and to interact with him on another way, besides playing with toys or singing.
He really enjoys getting a massage and we are practicing regularly so that it will eventually become a daily routine, soon."

Nadja G.
" Thank you Anaïs ! I am very happy to have practiced sophrology during my pregnancy. I gave birth at 39weeks 5days under normal delivery. The contraction started from early in the morning and it went and out periodically. For more than 12hrs of contraction duration, I gave her birth within 30 mins. During my contraction, I posed what you had let me know in the class 😊 It was helpful to reduce the pain and feel confident and focused during the labor. I think that my positive feelings favored the process."

Carol D.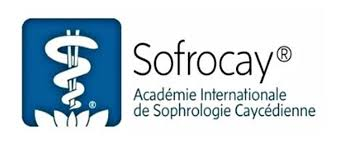 Sofrocay is the International Reference School for Caycedian Sophrology.